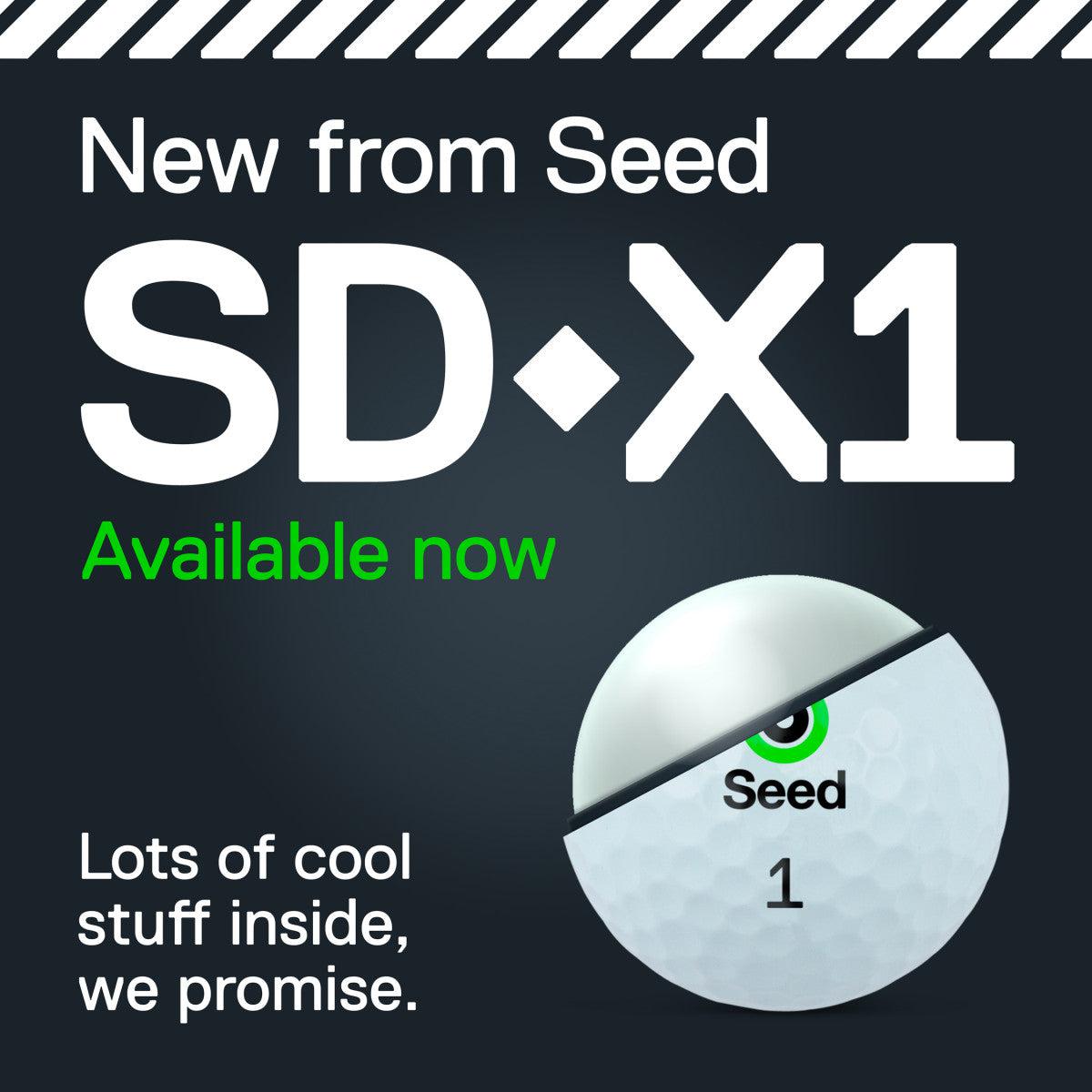 When we made a change to the SD-01 late last year, it was a big deal.
The SD-01 is our most popular ball, and we were reluctant to change a winning formula.
But technology and golf equipment does not stand still so we felt it was time to try for more performance.
The SD-01 is our most popular ball because it suits the widest array of players... pretty much anyone, of any ability, can play well with an SD-01.
That generality, however, brings with it some drawbacks.
To optimise a ball for 'everyone', you may give up some specific performance some players are looking for on certain shots. One of the great things about being a company that deals directly with our customers (you), is that we get to hear your feedback directly. 
So improving the SD-01 saw us focusing more on 'normal' swing speeds, and trying to optimise performance for distance and control for those players.
It took some tweaking, but the new SD-01 provides more distance and spin than the previous design, especially at 95mph swing speeds (that's the 'average' male swing speed).
To achieve that we increased the core size, made the mantle layer 'firmer', and added a new, thinner TPU (urethane) cover.
The new SD-01 has a firmer feel than the previous model, and is easily the longest ball we've ever produced for regular golfers (i.e. not a tour player).
Seeds focus has always been improving performance for golfers with real swing speeds - we don't sponsor tour players so our aim is always to optimise performance to help everyday golfers.
As we've grown, we now have the opportunity to tweak the ball designs a little and offer a wider array of performance options... essentially more choice and more options to help you dial-in your ball performance and get your 'ideal' Seed.
Enter the SD-X1.
With the SD-X1, our design focus was improving ball speed and spin profile. By that I mean optimising the original SD-01 core design for two purposes... to improve ball speed off the driver (lower driver spin) and still increase iron spin particularly for approach shots around the green.
That's not easy to do, but the SD-X1 offers the next level of performance. Like the original SD-01, it plays well for everyone but particularly for those who like to bomb it.
To achieve this, we've developed a new core construction - it's a lower compression for faster speeds off the driver and fairway woods. The mantle layer is not as firm as the new SD-01, offering a medium firmness for more control over launch angle and both distance and spin. The Cast Urethane cover provides the great soft feel you're used to.
The designers did such a great job that when testing at the USGA, they reported back:
Please be advised that whilst these brands have passed all the relevant tests as laid down in Appendix III in the Rules of Golf, you should be aware that their initial velocity is above the permitted limit of 250 ft/sec. but within the 2% tolerance.

Basically, the SD-X1 is about as hot as we can legally make a ball (and yes, it's USGA and R&A approved for tournament play).
And in our robot testing, the results speak for themselves... increases in both carry and total distance, and lower dispersion also.
Phil Mickelson was right, this is our 'Hellacious Seed'. It truly is the 'longest, straightest' Seed we've produced.
Go check it out, and let us know what you think.